Retail Warranty Reimbursement
Warranty Reimbursement at Retail Rates
The process of Warranty Reimbursement is time-consuming and complicated. Many dealers lose money in several ways by doing this 'in-house'. The amount of money at issue is far too substantial not to hire an attorney with extensive experience in these matters.
Our law firm knows how to identify the highest yielding qualifying sequential repair orders out of the thousands within a multi-month period. Even the best service or parts managers can rarely do this, nor should they spend a month of their time away from their regular duties.
Our low flat fee is generally recouped within the first month of receiving reimbursement at retail. Your manufacturer does not need to know you have retained us.
There has been no reported factory retaliation or increased audits from our clients. Ask us for references. There are no excuses for not obtaining this revenue.
The Pioneers in Warranty Reimbursement
Most states have statutes requiring Fair & Reasonable Warranty Reimbursement; over the next several years, we predict the remaining states will follow suit.
The factory should not be in control of your warranty markup- you should be. The legal services that Bellavia Blatt, P.C. provide are integral to the process. Although these retail reimbursement statutes are being enacted nationwide – dealers must affirmatively prepare a comprehensive submission in order to realize the benefit – dealers who ignore or waive these rights are leaving hundreds of thousands of dollars on the table.
A Service Manager is no Substitute for legal expertise.
The process of Warranty Reimbursement is time-consuming and complicated. Many dealers lose money in several ways by attempting to do this in-house with the help of a service manager.
However, the amount of money at issue is far too substantial not to hire an attorney with extensive experience in these important matters. Over a five-year period, the increased revenue often exceeds the blue-sky value of a dealership. Bellavia Blatt, P.C. knows how to identify the highest yielding qualifying sequential repair orders out of the thousands within a multi-month period. Your manufacturer does not need to know you have retained us.
Even the best service or parts managers can rarely do this effectively, nor should they spend valuable time away from their regular duties. We will show you how to spend less money by retaining us than doing the work in-house. In addition to saving money, we will likely achieve a higher percentage markup and we will be there to make the legal arguments to rebut the manufacturer's lawyers – attempts to frustrate or discourage the submission.
In working with hundreds of dealers, our firm knows how to make sure that our clients receive what they are entitled to, without impacting their bottom line.
There is a difference between retaining Bellavia Blatt, P.C. versus an accountant or non-attorney "consultant."
The procedure for obtaining retail rates for Warranty Reimbursement constitutes the practice of law. Neither your service manager, nor your accountant, nor an outside consultant is authorized to practice law. While certainly mathematical calculations can be performed by non-attorneys, the fact is that most manufacturers have their legal department reject the initial submission by raising nuanced legal arguments directed at the language and intent of your state statute. The submission, therefore, is one part accounting and two parts law.
Most manufacturers recognize or firm's unparalleled experience when it comes to Warranty Reimbursement. We are a firm with knowledge and legal expertise that a non-attorney cannot offer.
Bellavia Blatt, P.C. is recognized as one of the foremost in the nation for advocating the rights of franchised dealers and is widely regarded as a pioneer in the area of establishing the rights of dealers to receive Warranty Reimbursement at retail rates.
In the 1990s, dealers were essentially powerless to force manufacturers to pay more than the national reimbursement rate of cost plus 40%.
The law recently changed to streamline the process for dealers to obtain reimbursement at retail rates for warranty parts. Each and every dealer should have already invoked this new provision in the law to obtain their retail markup instead of the customary rate of the cost plus 40%.
Our firm is widely regarded as a pioneer in warranty parts reimbursement. We successfully litigated against the largest manufacturers and, after recovering seven (7) figure retroactive warranty payments for our clients, the manufacturers responded by negotiating legislation in several states- which allowed for prospective payments at retail.
Bellavia Blatt, P.C. was a true groundbaker in commencing mass action lawsuits on behalf of over one hundred dealers- winning historic settlements in many cases.
Since that time, we've been recognized as a preeminent firm for assisting dealers in obtaining substantial revenue increases with respect to Warranty Reimbursement.
Maximizing Warranty Parts & Labor Reimbursement Can Make All The Difference
The difference in receiving what the manufacturer thinks you are entitled to and the optimum markup you may receive can make a significant difference to your dealership's financial viability and continued growth.
We have come a long way since the customary factory rate was "cost plus 40%" – the industry standard – and our firm helped pave the way to additional profit for dealers of all sizes.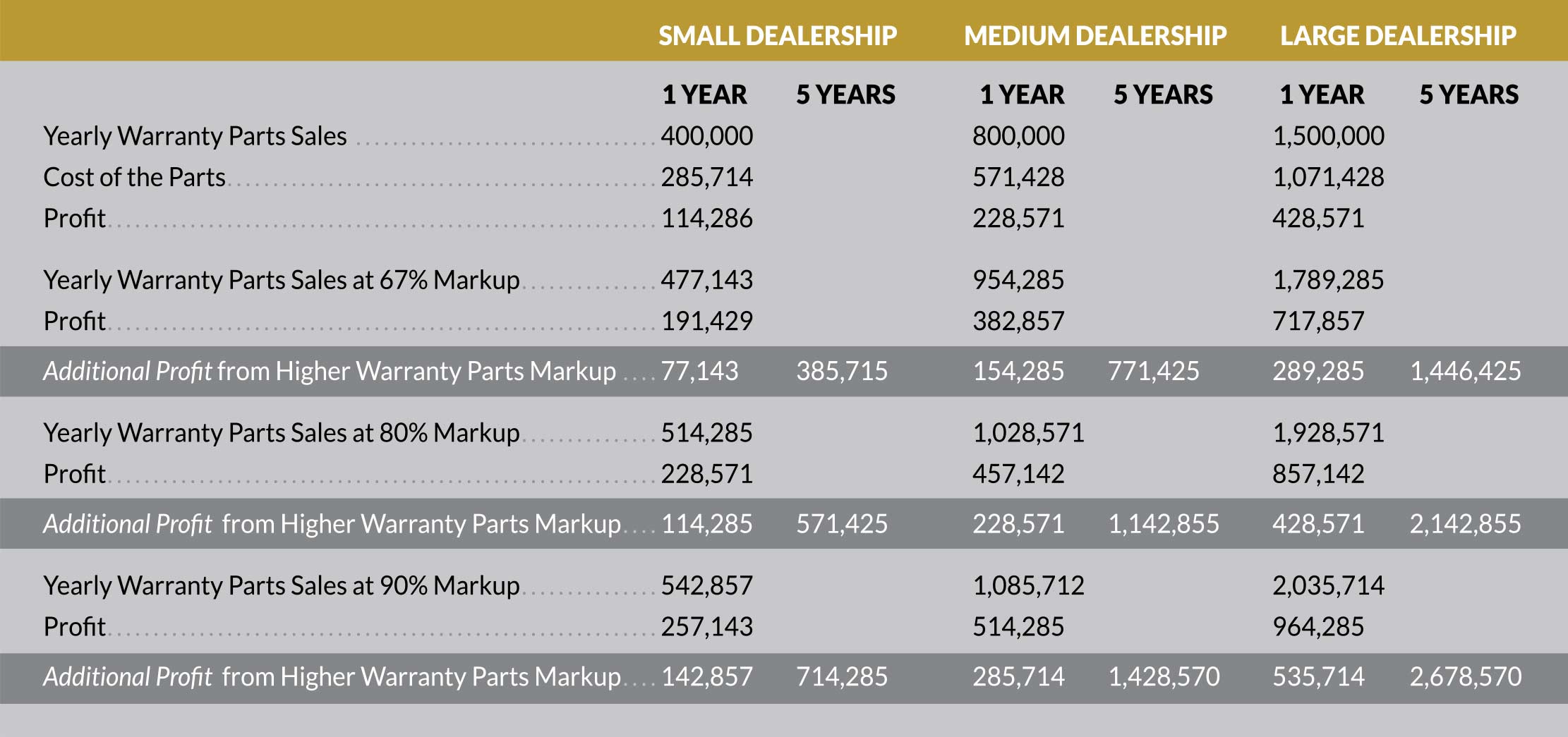 Bellavia Blatt, P.C. understands dealers' concern about retaliation on the part of manufacturers.
But we can assuage those concerns by confirming that, in all the years we have been working on behalf of automotive dealers and dealer associations, we have not experienced one instance of retaliation or increased audits of our clients.
The manufacturers understand that a dealer represented by experienced counsel like Bellavia Blatt is armed and prepared to invoke the law, if any form of retaliation is attempted.
Manufacturer "retaliation", therefore, is not a serious concern for dealers that have us in their corner.
Our fee for Warranty Reimbursement is fixed, fair, affordable & quickly recouped.
Our law firm's flat fee is fair & competitive because of the volume of work we perform nationally for dealer associations and hundreds of dealers.
The low fee is generally recouped within the first month of receiving reimbursement at retail. We do not become your "partner" by charging you a contingency or percentage-based fee.
We know of no other firm that performs as many submissions across the country as we do. We are truly industry experts and your factory knows that. There is simply too much money at stake to entrust this important legal service to anyone else.
Because of the volume of the work we perform, our team can keep the fee at an eminently fair fixed amount for our clients.
Ken Lohr, Director, Retail Warranty Reimbursement
Prior to joining Bellavia Blatt, Ken served as Director of Consulting at FrogData and as Corporate Fixed Operations Director at Galpin Motors.
Ken brings  over four decades of experience and a proven track record of success in the Retail Automotive Dealership area, which will be invaluable in serving our clients.
What Are Your Fellow Dealers Saying About Bellavia Blatt's Warranty Reimbursement Program?
I have dramatically increased my warranty revenue since hiring Bellavia Blatt to prepare my submission. Their flat fee is negligible compared to the added gross profit. They are fully familiar with the state laws, manufacturer policy and their professionalism is second to none
Fixed Operations Director, Bill Estes Automotive
Bellavia Blatt got us a great parts markup for our dealership. While I thought we might face a challenge from the factory, I was surprised at how well they were able to navigate through the submission process to get the results that we wanted. I am happy to recommend them to other dealerships.
Parts Manager, Buckeye Superstore
I'd recommend Bellavia Blatt for their warranty parts reimbursement work. They did all of the preparation and analysis for our parts submission and we got a good boost to our warranty markup that will go straight to our bottom line. For the money we spent, working with them provided a great value for us.
General Manager, Leachman Buick GMC
I wanted to thank Bellavia Blatt for the efforts and services provided with regard to our warranty reimbursement request. The documentation required to be collected, analyzed and submitted to ensure the greatest possible increase is not something that we were prepared to undertake. We have realized a substantial increase in profits as a result of your firms' activities. My only regret is that we did not engage Bellavia Blatt earlier.
Morris Cadillac Buick GMC, Inc.
We have used Bellavia Blatt multiple times for both Parts and Labor warranty increases and each time the increases that we have received have been substantial. Everyone at Bellavia Blatt is professional and easy to work with.
Our parts department's warranty markup was increased from 40% to 69.6% after the Bellavia Blatt analysis. This additional 29.6% was all profit for us and has made a big impact on the dealership. Now our parts manager looks like a hero from month to month! Hiring Bellavia Blatt, in hindsight, was a no brainer. Bellavia and Blatt did an amazing job when we asked them to audit our factory warranty labor rate and part reimbursement. They were clear and precise about the process that needed to be followed. Our fair market rate increases were approved by the factory for both parts and labor. Would not suggest anyone do this on their own, hire someone, the payoff is immediate!
Just a quick note to thank you and the team at Bellavia Blatt for the outstanding work you did for us on our Parts Markup and Labor Rate Increase submission. Your team was able to make a complicated process virtually turnkey. And the results have been phenomenal, yielding significant increase for our Fixed Operations.
General Manager, Planet Dodge Chrysler Jeep, Planet Alfa Romeo Fiat
We will definitely be repeat clients of Bellavia Blatt. They went above and beyond to accommodate us and to increase our bottom line. Thank you for all of your help!
Service Consultant/Warranty Administrator, Bob Luegers Buick GMC
I want to thank you and your team for the successful parts rate increase. From start to finish it was executed flawlessly; the increase doubled our gross. With the cost of adhering to manufacturers' standards (training, tools, administration, audits etc.) this additional gross offsets that expense. Please use us as a reference.
We like the flat fee for the service as opposed to other firms that charge a percentage of future profit. Dealer Law has a great team who will go to bat for you with the manufacturer to get the maximum margin, leaving you time to concentrate on what's important – your business.
Director of Parts Operations, Ganley Westside Imports
We were very happy with the results. We have been a franchise for less than two years and we did not expect the results that we got. We will be doing the process again in the near future.
Bellavia Blatt was instrumental in assisting our auto group with our warranty reimbursement project. We had raging success with our submissions, and the process was painless. The customer service from the team was great. We could not have pulled this off without their dedication and assistance.
I just wanted to thank you, and your Firm, for helping us with our warranty parts reimbursement submission.
We were stuck at cost plus 40% for years, we had always been reluctant to request an increase for parts.
Working with your firm was fast and simple, and we got an increase to cost plus 71% on the first submission. I would highly recommend your Firm to any Dealer feeling the pinch of a low markup on warranty repair parts.
Fixed Operations Director, Kentucky
I am completely satisfied with the return on our investment after having employed Bellavia Blatt to review our GM Parts warranty reimbursement. We have almost doubled our monthly gross profit retention on warranty parts at our GM store. If a dealer is not getting retail reimbursement for parts, I would highly recommend Bellavia Blatt as the solution to increasing warranty parts margins to near retail levels. The repair order records submission process to the manufacturer was smooth and the cost of the service was recovered within a few months after receiving the higher margins on warranty parts achieved as submitted by your firm.
Parts and Service Director, Smail Auto Group